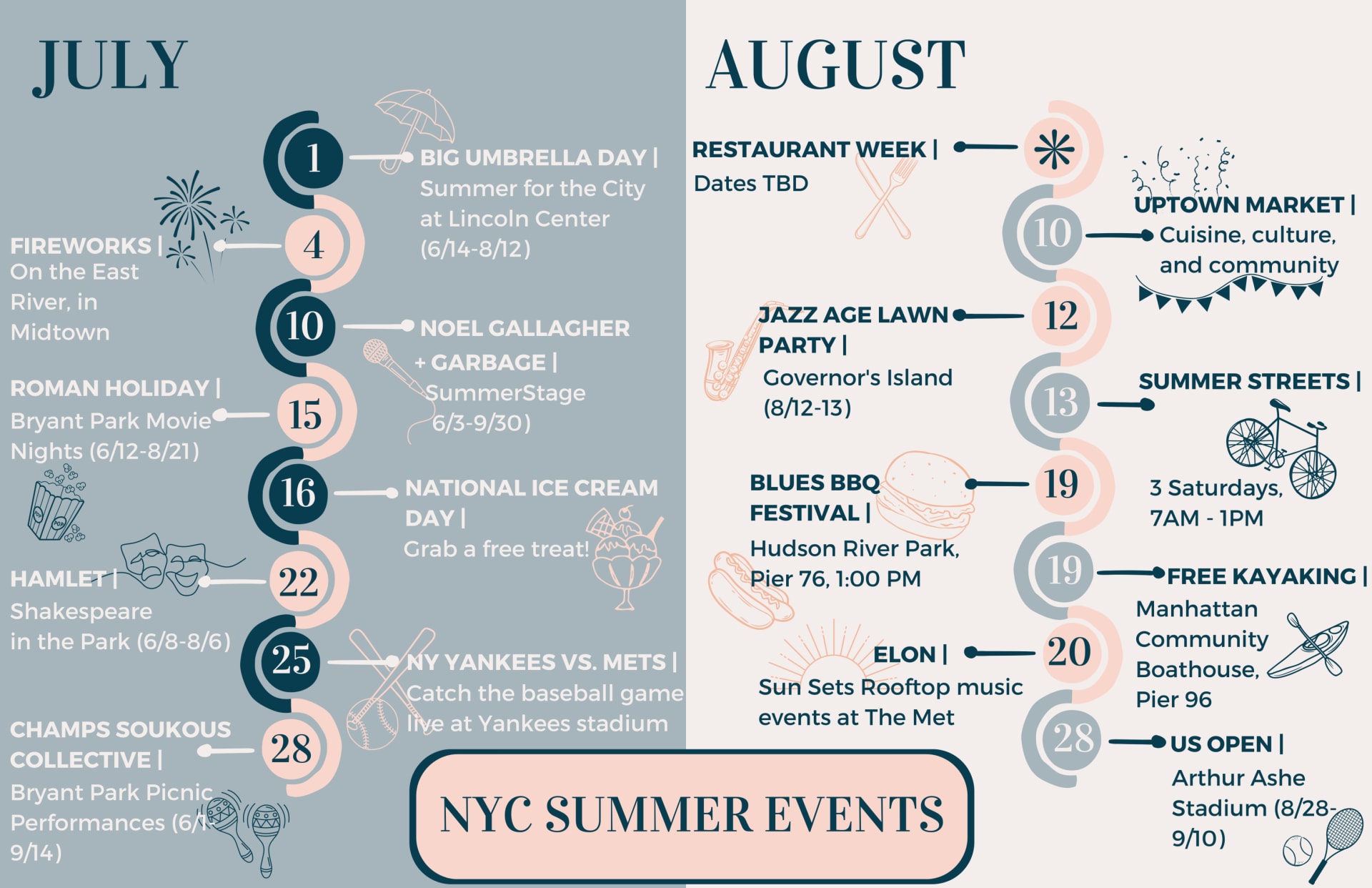 Summer is just around the corner and with it NYC's abundance of outdoor events!
From movie nights under the stars to live concerts, here are all the dates you don't want to miss this season.
Summer in the City | Lincoln Center
Lincoln Center invites New Yorkers to come together for hundreds of events with thousands of artists celebrating the cultural communities of NYC.
Celebrate July 4th
Here's where to find the best barbecue, stunning fireworks and more 4th of July events going down in NYC.
SummerStage Festival Central Park
See this year's amazing SummerStage performance lineup and get some helpful know-before-you-go tips. Many performances are free, while others are benefit concerts to help fund SummerStage programming.
Bryant Park Movie Nights
Paramount+ Movie Nights returns to the park with a stellar lineup of films, fun, and food! Bring a blanket and a friend, and grab your spot on the lawn to watch a feature film on the big screen under the city skyline. Enjoy the show!
Shakespeare in the Park
The 61st Free Shakespeare in the Park season will feature the classic drama HAMLET, directed by Tony Award winner Kenny Leon and featuring Tony Award nominee Ato Blankson-Wood (Slave Play, Public Works' As You Like It) in the title role. HAMLET will have an extended run of nine weeks, beginning at The Delacorte Theater on Thursday, June 8, and running through Sunday, August 6.
MLB 2023
Head to Yankee Stadium to enjoy one of the many baseball games this season.
Bryant Park Picnic Performances
This is a free outdoor festival that welcomes all New Yorkers to experience the city's vibrant arts and culture. This summer, enjoy extraordinary artists and events in collaboration with a wide array of New York's cultural institutions.
Summer Restaurant Week
From July 24 to August 20, explore the City one bite at a time. Enjoy prix-fixe meals at hundreds of restaurants across the five boroughs. Reservations will begin July 6.
See Participating Restaurants and Book Here
Uptown Night Market
The 3rd season of New York's largest cuisine, culture, and community festival is back, and it's bigger and better than ever before. This beloved food event series is a must-attend for any food lover in Manhattan, with its celebration of cuisines worldwide, cultures with diverse performances, and communities with various all-family activities.
Jazz Age Lawn Party
Head out to Governor's Island for the day in your best Roaring 20's attire. Discover the music and zeitgeist of the 1920s, and relive one of the most colorful and formative epochs in American history.
Summer Streets
Summer Streets takes place on select Saturdays between 7 am and 1 pm. Miles of NYC's streets are open for people to play, walk, and bike. Take a break along the route at one of our rest stops to enjoy free activities.
Blues BBQ Festival
This free, day-long music festival invites exceptional blues artists to perform on our stage. Come to Hudson River Park for a Saturday filled with great food, great company, and great music!
Free Kayaking
Manhattan Community Boathouse offers free walk-up kayaking at Pier 96 in Hudson River Park.
Sun Sets at the Met
This summer, MetLiveArts celebrates the freedom, inclusivity, and creativity of electronic music culture with a series of rooftop events showcasing the diversity of sounds emanating from the city's ever-evolving music underground.
2023 US Open Tennis Championship
Snag a ticket and watch the Greats bat the yellow ball in Queens' Arthur Ashe Stadium.