November is the month of giving thanks for everything we have, and giving back to our community and to causes and people who may be less fortunate. In true holiday spirit, we have collected some of the Upper East Side's best organizations to volunteer at or donate to - whichever you prefer or can. Each of these organizations is doing good in the neighborhood and beyond it, and needs all the help they can get. And if you choose to donate - be sure to check with your place of employment if they participate in gift matching, to help your cause even more! Keep scrolling for some city-wide charity options as well.

405 East 73rd Street, New York, NY 10021
RMH-NY provides a strong, compassionate circle of support that keeps families close when they need each other most. They work to relieve stress on families in many ways as their child undergoes medical treatment. Located near the pediatric wings in both hospitals, The Ronald McDonald Family Rooms allow caregivers of children in treatment to prioritize what matters most: their child's health and well-being. In addition, they provide resources and community even after a family's stay at the House is over.
You can either donate or volunteer. Volunteers at the House help support our staff and families with everything from helping greet families in the lobby to putting on fun activities and experiments for the entire family to enjoy. Hospital Outreach volunteers serve children who are not residents of our House, but who still need encouragement while they undergo treatment at nearby hospitals.

717 Fifth Avenue, New York, NY 10022
The mission of the Central Park Conservancy is to preserve and celebrate Central Park as a sanctuary from the pace and pressures of city life, enhancing the enjoyment and well-being of all. The Conservancy honors its commitment to this iconic public space by applying its deep expertise in urban park management; by partnering with the community and the City of New York; and by marshalling all of the resources necessary for the Park's long-term care. The Conservancy's work is founded on the belief that citizen leadership and private philanthropy are key to ensuring that the Park and its essential purpose endure.
Aside from a multitude of donation options, volunteers can find individual, family and group assignments such as landscaping maintenance, guest-greeting, seasonal maintenance of the Park, and more.

331 East 70th Street, New York, NY 10021
Lenox Hill Neighborhood House, widely recognized as one of New York's premier nonprofit organizations, is a 129-year-old settlement house that provides an extensive array of effective and integrated human services—social, educational, legal, health, housing, mental health, nutritional and fitness—which significantly improve the lives of thousands of people in need each year, ages 3 to 103, on the East Side of Manhattan.
Donations support over 16,000 New Yorkers who rely on the House's programs and assistance. Volunteer options run the gamut; be it as a teaching assistant in their Early Childhood Center, assisting older adults as a companion volunteer, leading activities in their Women's Mental Health Shelter, or assisting in language, computers, and technology classes, you are sure to find the right cause and schedule for you.

424 E. 92nd St. New York City, NY 10128
The American Society for the Prevention of Cruelty to Animals (ASPCA) was the first humane society to be established in North America and is, today, one of the largest in the world.. The ASPCA works to keep more animals in loving homes by protecting animals from harmful situations through community engagement, preventative action and providing resources and care when needed. In NYC, the ASPCA provides access to veterinary care, such as medical exams and microchipping; Spay/neuter services; Supportive services to keep pets in homes, such as providing informational resources, supply support and grooming.
Donations will help fight cruelty and make a life-changing difference for animals across America. Volunteer opportunities in NYC include fostering pets and volunteering at the adoption center on the UES.

419 East 86Th St, New York, NY, 10028
ABC's mission is to offer every child a life filled with joy and love by creating compassionate programs in urgent response to the needs of New York City's most vulnerable families. With programs in early childhood education for at-risk infants, toddlers, and preschoolers, supportive housing, mental health services and crisis intervention, family preservation, year-round youth development, and an open door to the community, ABC is a refuge for impoverished families.
You can donate in many ways, including purchasing gifts on their online store or donating personal items. Volunteers will provide homework help, Assist in garden maintenance and upkeep, planting, harvesting, and composting at Bunny's Garden, play with, feed, hold, and read to the children at their early childhood centers, and more.

1745 1st Avenue, New York, NY 10128
This food pantry serves dinner every Tuesday night to those in need, as well as provides clothing, hygiene items, showers, a mailing address, and social services. Low-income New Yorkers can access the necessities and connections they need to thrive with the dignity they deserve. They believe our city and our neighborhoods thrive when we work collaboratively with low-income people, immigrants, and women – particularly women of color – to ensure access to material necessities for all, build supportive networks and relationships, and advocate for a more just, equitable, and inclusive New York City.
Donate to support this cause or volunteer at the food pantry preparing meals and delivering them to those in need.

966 Lexington Avenue, 3E, New York, NY 10021
Friends of the Upper East Side Historic Districts, founded in 1982, is an independent, not-for-profit membership organization dedicated to preserving and celebrating the architectural legacy, livability, and sense of place of the Upper East Side. They pursue our mission through rigorous advocacy as well as educational programming for adults and children. They urgently promote the values of common sense zoning and good planning, and believe that the Upper East Side can be a place where architectural beauty, historic resources and new development exist in harmony. FRIENDS also works hard to educate the public. They host lectures, sponsor walking tours, and present annual awards to outstanding preservation projects, advocacy efforts, and community service on the Upper East Side. They also offer educational programming for 1st through 5th graders through their robust Young FRIENDS program. A variety of curricula focus on the appreciation of the built environment and neighborhood history.
You can support their cause by donating and becoming a member, or by reaching out for volunteering opportunities, which include helping with public events such as fundraisers, talks, and neighborhood tours, and assisting with neighborhood research and general administrative tasks.

419 East 77th Street, New York NY 10075
Friendship Circle Upper East Side is dedicated to bringing happiness and companionship to Jewish children, teens and young adults with special needs, as well as bringing energy, support and peace of mind to their families. Their unique model pairs teen and young adult volunteers with individuals with special needs for hours of fun and friendship at our 40+ tailor-made programs.
You can make a financial contribution or volunteer, with opportunities to do so virtually, at the home of a special-needs Friend, on day camps, and supporting through preparing care packages or escorting field trips.

130 East 80th Street, New York, NY 10075
The Junior League of the City of New York, Inc., is an organization of women whose Mission is to advance women's leadership for meaningful community impact through volunteer action, collaboration, and training. Its purpose is exclusively educational and charitable. Established in 1901, it has since been at the forefront of many key initiatives and advocacy efforts to enact change in our city. NYJL offers expertly designed programs that target four areas of need in New York City serving 60 community partners—Adult Education & Mentoring; Children's Education, Culture & the Arts; Child Health & Welfare; and City Impact.
Aside from making a donation, you can also volunteer by becoming a member and attending their Volunteer Education and Training (VET) program, which builds on volunteers' skills through hands-on workshops, expert panels, committee assignments, and leadership positions that focus on timely community issues and practical skills for managing a nonprofit organization. These trainings concentrate on four core areas important to NYJL volunteers' work: community, fundraising, volunteer experience, and strategy and communications.

211 E 81st St, New York, NY 10028
Neighborhood Coalition for Shelter provides New Yorkers who are homeless or at risk of homelessness with a home, a community, and access to the services that they need to thrive. Established in 1982 by faith and community leaders on Manhattan's Upper East Side who believed that homelessness is the responsibility of the entire community, they help New Yorkers who are struggling with homelessness, often compounded by mental illness or substance use, to achieve their highest level of independence.
multiple donation options are available, and if you'd like to volunteer locally, you can do so at their NCS Residence, and spend time with the residents, help in the office, or share your unique skills.
---
While all of the above organizations are located at and focused n the Upper East Side, many of them operate throughout the city. Here are a few more Manhattan-wide options for those of you who do not live uptown and who still want to partake in the grand act of giving.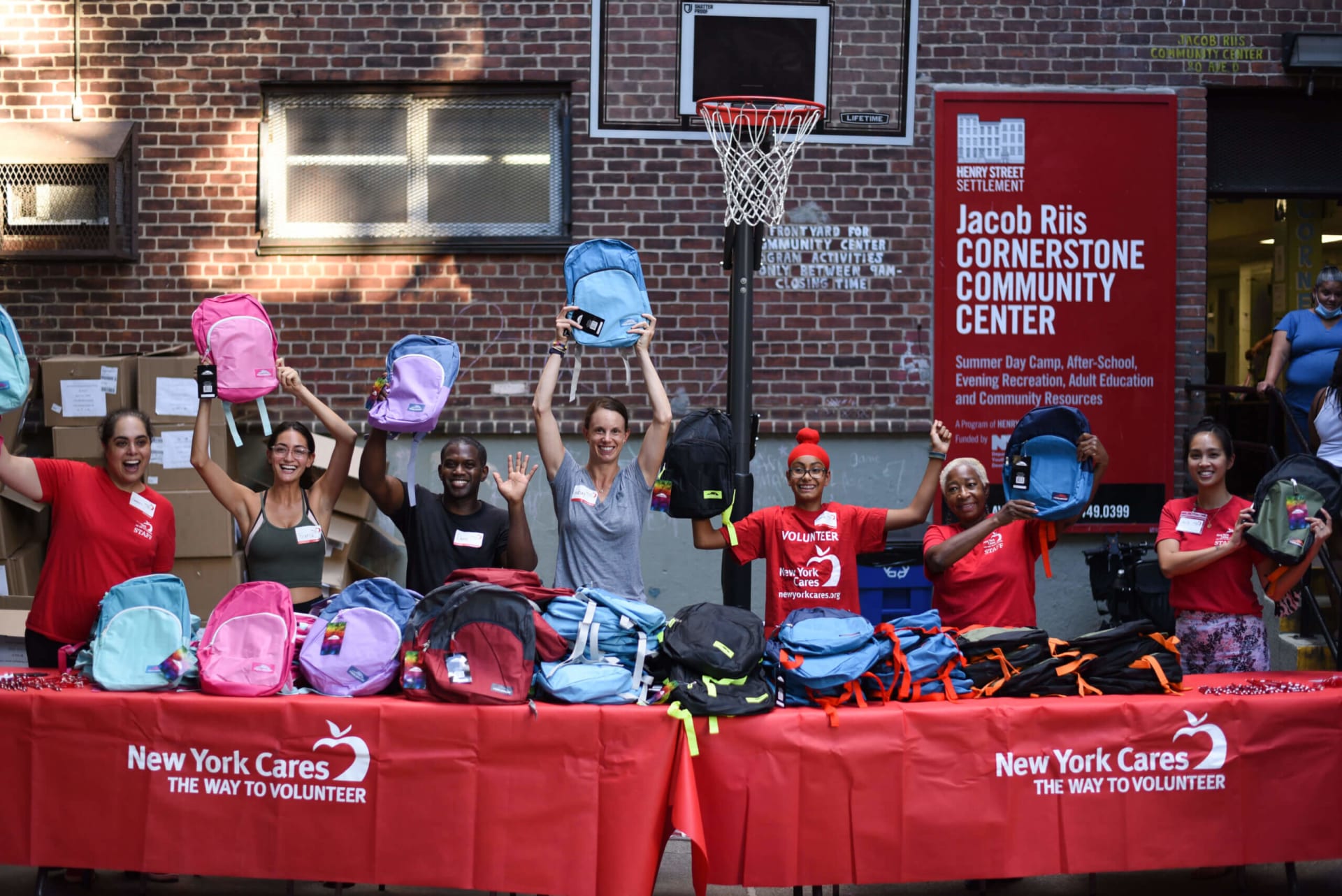 39 Broadway, 27th Floor, New York, NY 10006
Best known for its annual Coat Drive, NY Cares runs programs year-round, addressing issues like hunger, homelessness, educational inequity, and the environment. Their volunteers serve in schools, soup kitchens, senior centers, public parks, libraries, and other nonprofits, and they provide volunteer projects in all five boroughs, designed to suit your schedule and your interests. The organization builds on existing community resources and expertise to have the greatest impact. It supports communities facing structural barriers to housing and food insecurity, racial disparities in income and employment, and barriers to education.
Various donation options are available, as well as one of the widest arrays of volunteer opportunities throughout the city.

520 Eighth Avenue, New York, NY 10018
Selfhelp provides a broad set of services to more than 25,000 elderly, frail, and vulnerable New Yorkers each year, while remaining the largest provider of comprehensive services to Holocaust survivors in North America. Selfhelp offers a complete network of home care and community-based services with the overarching goal of helping seniors live with dignity and independence and avoid institutionalization.
Donations help sustain their elderly community centers and affordable housing buildings for the elderly, among their other programs. Volunteer opportunities are available by directly reaching out to the organization.

135 West 50th Street, 9th Floor New York, NY 10020
Volunteers of America has been helping veterans from as far back as the Civil War who are struggling to reintegrate into civilian life. They are one of the largest providers of supportive housing in New York state and they offer a full range of services to help veterans overcome the barriers that prevent them from living stable, secure lives. Services don't stop there; they also assist youth, the homeless, victims of domestic violence, people with intellectual and developmental disabilities, and more.
You can donate, fundraise, and become a Strategic Partner, and of course, you can volunteer!