We are getting close to the end of the year; we moved from a frenzied, abnormal seller's market earlier this year to a slow and soft buyer's market. Yet, the holiday season is here, and the streets of New York are packed with tourists, overbooked restaurants, hotels, and heavy traffic.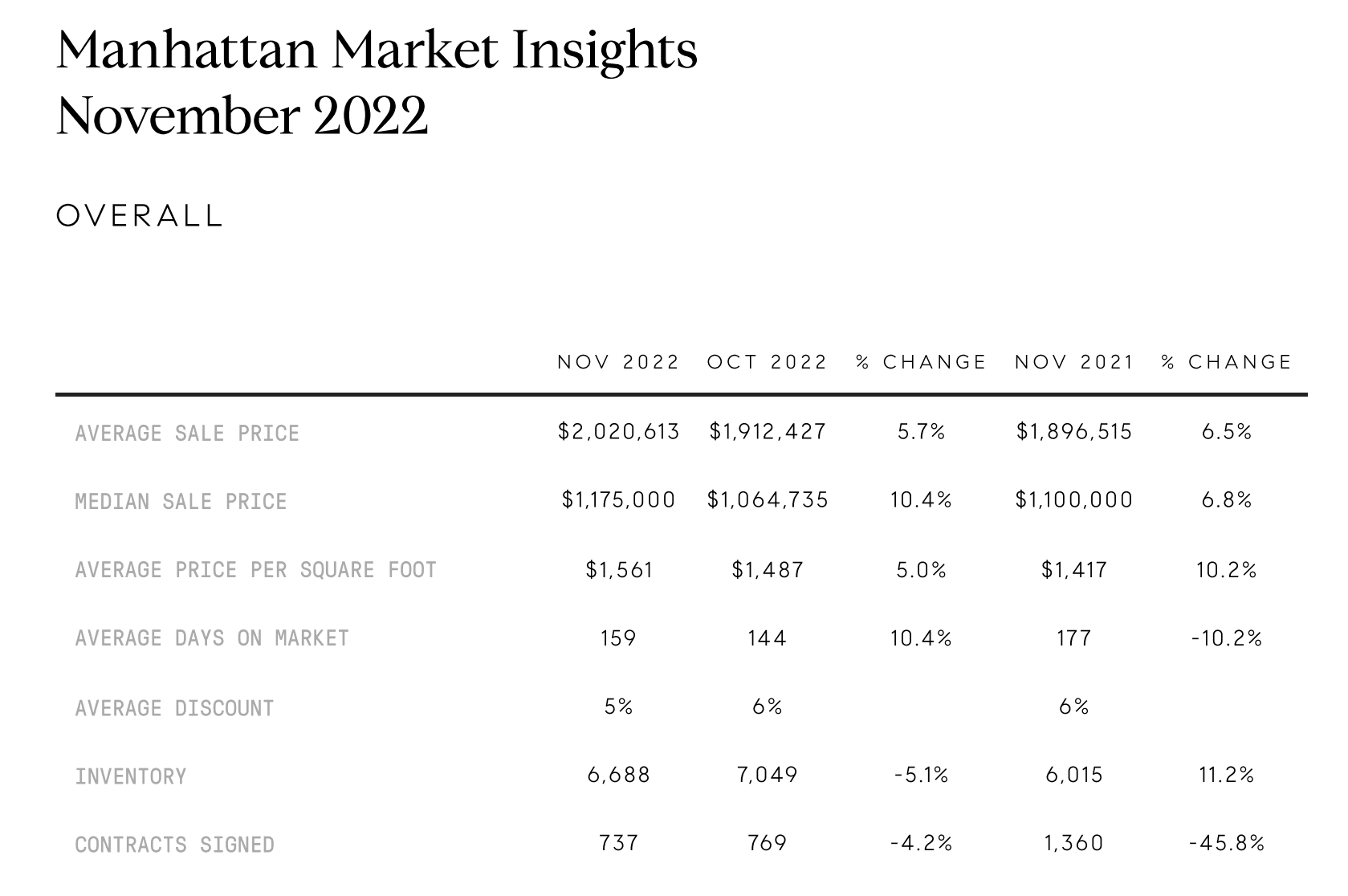 Source: Compass
Current inventory is dropping, new supply is 5% less than last month, but almost static when we look at earlier months this year. Based on absorption rate, however, we are still trending below the 6-month equilibrium.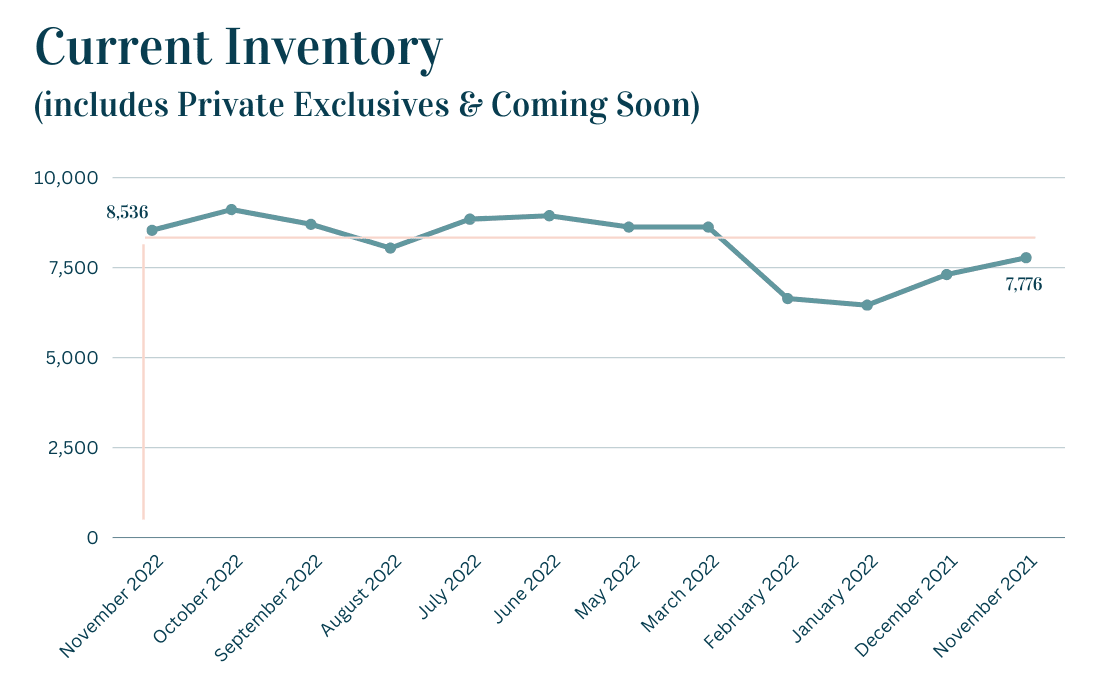 We saw 737 contracts signed this month, 4% down from last month, similar numbers to what we saw in 2019. An average activity for November is around the 800 contracts so we are not far off. September is historically the slowest month of contracts signed activity with about 700 contracts on average, and December usually ends with 750 signed contracts.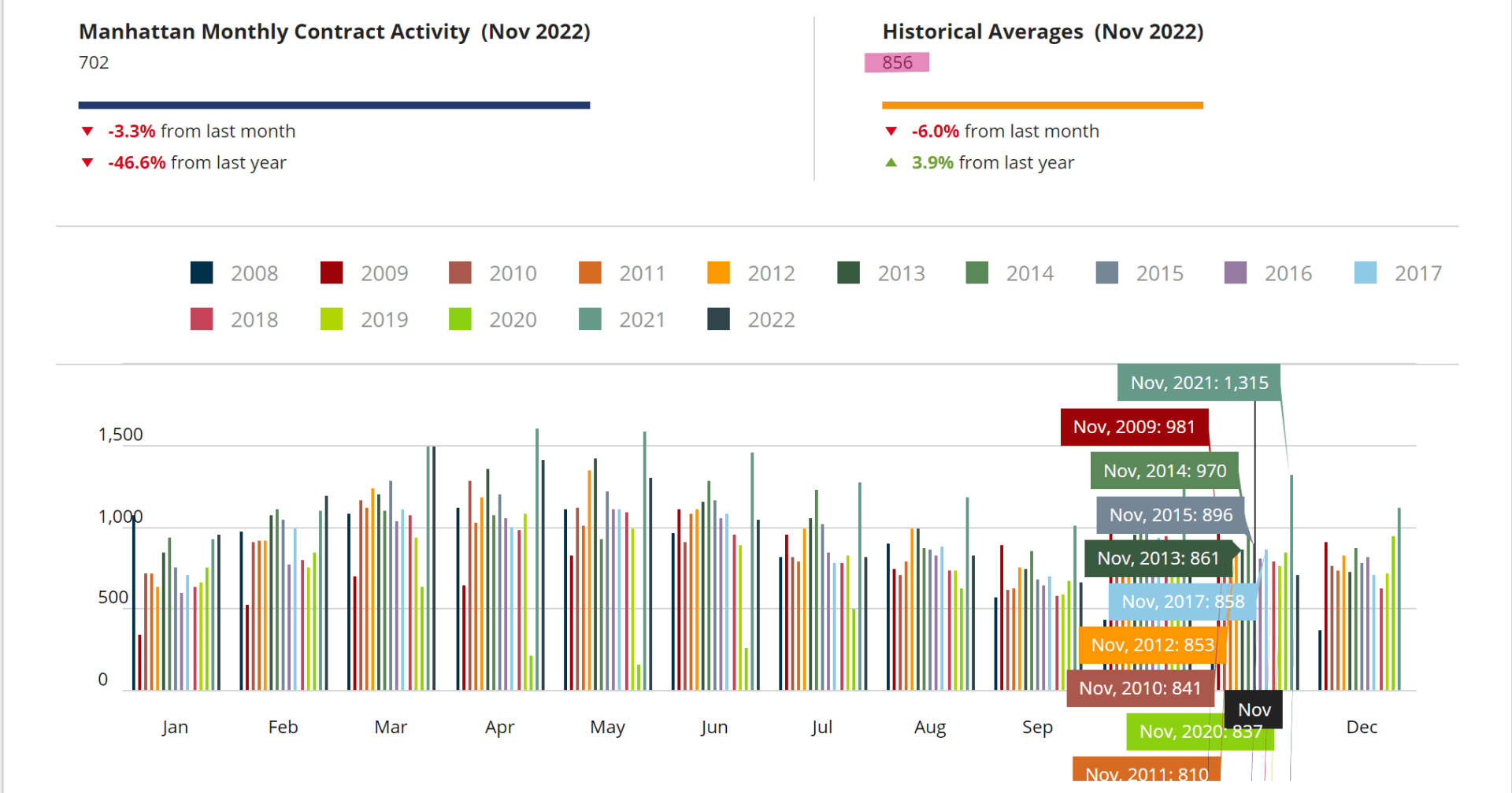 Source: UrbanDigs
Days on the market are trending up, with a 10% increase from last year, and hovering close to 5% from last month. With current market conditions, we expect days on market to continue trending up.
Market pulse, which is what we like to review- the ratio between supply and pending sales - is starting to level up from the dip it has taken in the last few months. It stands on 0.36 and is not expected to drop any further; we actually see increasing buyer activity. Now is the time to buy and the savvy buyer is taking advantage of the market, snatching up these lower prices.
Source: UrbanDigs
Rental Market
While rent prices are stabilizing and beginning to drop, they are still significantly higher than in previous years. Interestingly, the Upper East Side is the only neighborhood that saw an increase in rent prices last month. As we near the slower winter season, we are seeing a slight increase in Landlord concessions, such as free rent and owner-paid commission. Inventory has been going down, and we also see less people looking to rent. Many are already settled and traveling during this time of year. We may see slightly increased activity towards the new year and January, as people move to start new jobs.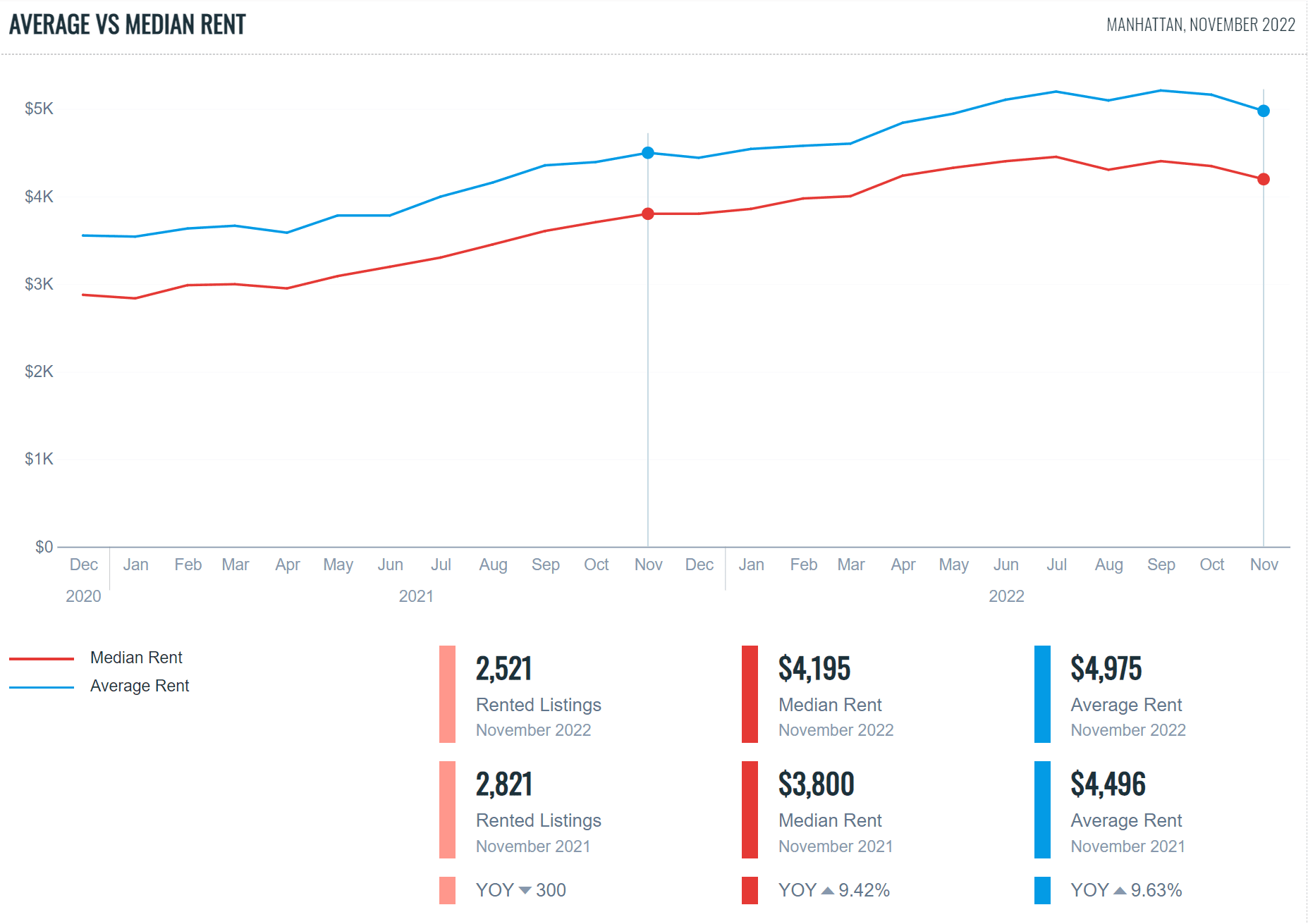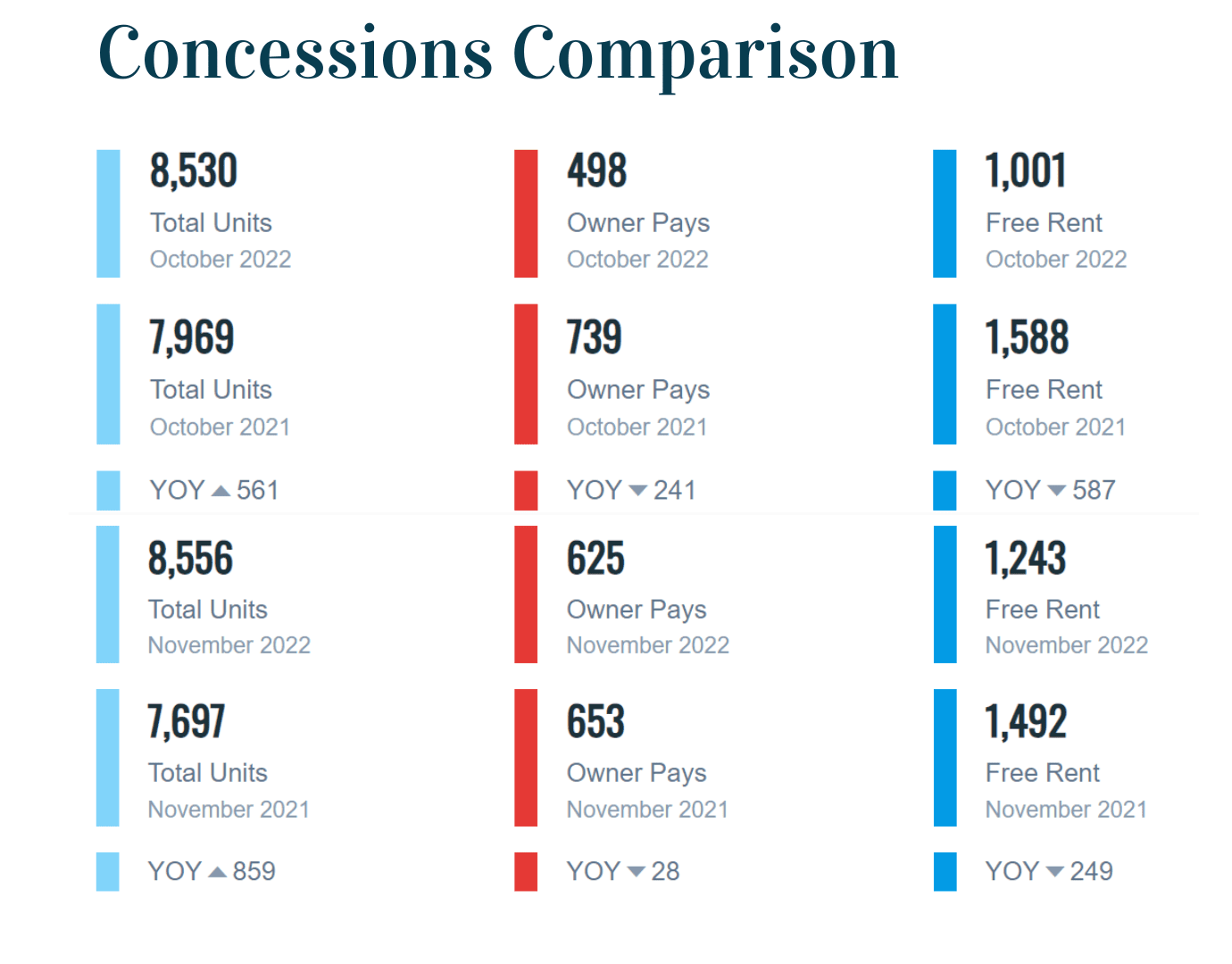 Source: OLR
Q1 2023 Projections
This December, with the slight drop in interest rates, we are seeing a bit more confidence in the market. Some areas of the city are competitive with buyers on the fence waiting for a deal, and other areas are slower with us agents needing to put a ton of effort to maximize exposure and generate interest. We are also seeing a slow yet stable return to office, and with it, more people coming back to Manhattan. Investors are still buying high-quality properties and we predict to see more of them in the next year.
A question many of you are asking me these days is, where is the market going? Are we going to see prices drop?
The reality is that Manhattan hasn't experienced a sharp appreciation like other cities have, we have a more stable market. Manhattan is Manhattan, and people will always need a shelter. Rents, for instance, have reached record prices, and you should ask yourself, would you rather pay 6% interest rate to build equity or 100% interest to your landlord?
Another thing is, we cannot time the market. real estate isn't a stock in a portfolio you can shift around and buy when it's low and sell when high. It takes months of data in retrospect to analyze this. Instead, focus on finding a place you will be happy to call a home!